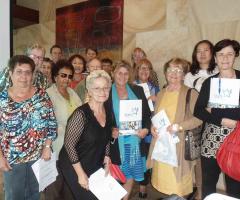 The Skills Training and Resource Service (STARS) supports the Community Aged Care Sector by providing affordable, accessible and appropriate training for volunteers, Board members and staff in the Canterbury-Bankstown and Inner West areas.
STARS provides quality learning and development that is accessible and affordable to build the capacity of the Commonwealth Home Support Program to deliver entry level community aged care services.
STARS Learning and Development is facilitated at a range of times and locations with the STARS Calendar and onsite training aimed to meet both the individual and collective needs of volunteers, staff and Board Members of not for profit organisations.
Download the current STARS Learning and Development Calendar to see what is available.
The range of training and workshops were exactly what our organisation and staff needed, their facilitators were extremely well prepared and professional.
Calendar workshops provide opportunities for collaboration and relationship building which strengthens partnerships across the Sector. Workshops are developed and delivered by STARS staff or contracted trainers with expertise in particular subject areas or community language skills. Training can be accredited or non accredited.
Recent examples of STARS training include
Risk Assessment and Risk Management
Manual Handling
Safe Food Handling
Listening and Responding to Service User Needs
Wellness and Re ablement
New Aged Care Quality Standards
Volunteer Essentials
Volunteer Co ordinator Forums
Safer Home Visiting
Recognising and Responding to abuse of Older People
Dementia Essentials
Hoarding and Squalor - Effective Service Responses
Older Persons Mental Health First AidGrief and Loss
DoH Wellness Reporting Considerations
Easy Moves for Active Ageing
And many more ...
Details of upcoming training courses can be found on the events page of this website.
To register for any course on the Calendar complete the Training Registration Form  and fax to STARS on 9740 6332 or phone the STARS Training Officer on 9750 9344.
Please contact the STARS team on 9750 9344 to discuss the learning and development needs of your team or email starstraining@4cs.org.au