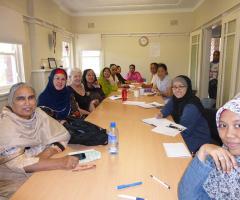 Two Classes are offered during Term 1 2020 - Wednesday afternoons at a Beginner and Intermediate level and Tuesday afternoons at Intermediate and Advanced level. Classes are free and are held between 12.30 pm and 2.30 pm at the Cottage at Lakemba. Limited childminding is available on Wednesdays. 
Download the flyer or come along to the Information and Enrolment Session for the Beginners Class  on 5th February 2020 or Advanced Class on 4th February 2020 or phone Kate or Romana on 9750 9344 for more information.
In partnership with Sydney Community College, we are also offering a Basic English  and Computers Course - especially for people wanting to improve their computer and technology skills for work and study, while also improving their english language skills. This course is held over 14 weeks, on Mondays during schools terms, and is free to eligible students.