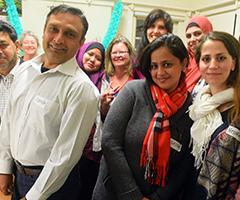 Film Project
If there's one thing that many people in Lakemba feel passionate about, it's the negative media attention the suburb often receives in the press, radio and television. Tired of the constant bad press that make many residents feel ashamed and frustrated about how their suburb is portrayed, a group of local residents are hoping to change people's perception by filming the REAL Lakemba.
Thanks to a grant from Canterbury League Club under the Club Grants Program, the Centre has been able to engage film-makers Art Resistance to guide and support several local residents to tell their stories, as well as train them in all aspects of film production to produce a series of short individual films that highlight their daily life, aspirations and frustrations about living in Lakemba.
The main aims of the Project were to;
improve Lakemba's image and address negative stereotypes
tackle people's perceptions of Lakemba as unsafe and encourage more people to visit Lakemba
build a positive sense of community
increase community harmony, cultural understanding and inter-faith awareness
build capacity through skill development.
Over many months the Film storyline changed to become a drama/comedy which followed Investigative Journalist Pete as he came to Lakemba to uncover the dark underside of this dangerous suburb. What he found was very different to what he expected.
The film had its premiere during Harmony Week 2017 and has been screened several times since then. Upcoming public screenings are included on the Events Page of this website and also promoted on our facebook Page.
If you would like more information about the film or arrange a screening for your school or community group please email Kate Maclean or call 9750 9344.