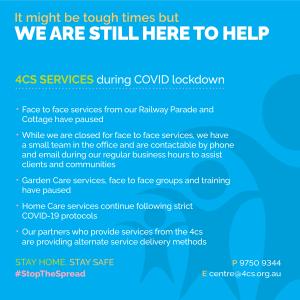 In accordance with the NSW Government restrictions, 4cs has made some changes to the way some of our services are delivered.  
Face to face services from our Railway Parade and Cottage have paused
While we are closed for face to face services, we have a small team in the office and are contactable by phone on 9750 9344 and email centre@4cs.org.au during our regular business hours to assist clients and communities
Garden Care services, face to face groups and training have paused
Home Care services continue following strict COVID-19 protocols
Our partners who provide services from the 4cs are providing alternate service delivery methods
To all of our clients and community, please follow the rules to make sure you are safe. It is also worth remembering to stay in contact with people, as this can help with the feeling of isolation that some may experience. While 4cs is closed for face to face services, we are still in the office to take your calls and respond to your needs when you need us.
For all the latest Covid -19 updates, including case locations and information in your own language, go to https://www.nsw.gov.au/covid-19 Stay safe everyone!